Spanish Books With Sound Buttons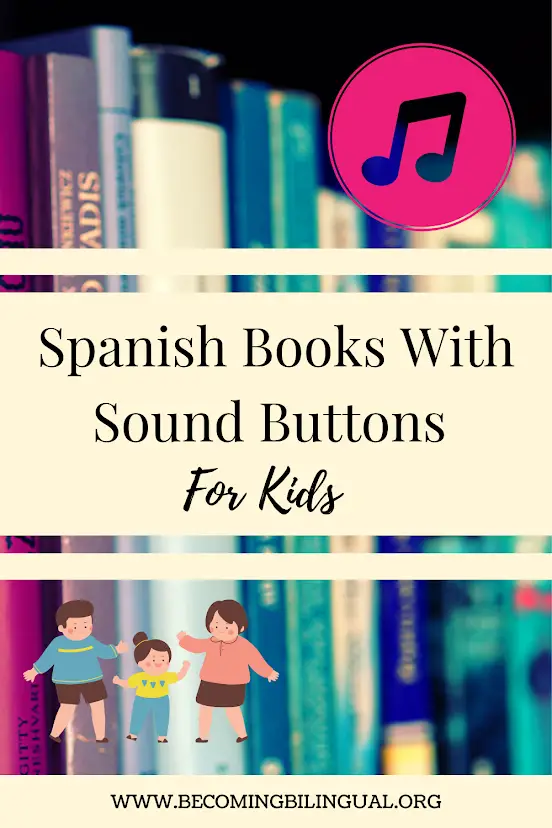 (Last Updated On: January 23, 2022)
When I first started learning Spanish with my daughter, I was always looking for resources that had Spanish audio. As a non-native Spanish speaker, I needed ways for my daughter to be able to hear native, fluent Spanish.
One of the best resources that I've found for learning Spanish has been audiobooks and books with sound. This article is about the first sound button books that I found with Spanish audio, how they benefit language learning and what we like about them.
---
This post contains affiliate links. If you click an affiliate link and make a purchase, I earn a small commission which supports this blog at no additional cost to you. Please see the Privacy Policy for details. Thank you for supporting me!
---
Benefits of Sound Books For Babies and Toddlers
Holds Children's Attention
Babies and toddlers are often engaged in books that are interactive. When my daughter was younger she was obsessed with touch and feel books! We also had several books with tabs to push and pull and lift the flap books.
Interactive books are important resources for building early reading skills and are that much more beneficial when learning a second language. When children are engaged in sound books, they are building stamina for looking at books for stretches of time.
Related: See What Makes These Interactive Spanish Books Great!
Nursery Rhymes Enrich Language Development
When children listen to sound books that have buttons that make sound effects, they aren't reaping as much of a benefit as sound books that play actual language audio.
Sound books that have language audio, like dialogue or a nursery rhyme, are actively providing enriching language for the child. This is especially important for children who are using sound books to boost minority language skills since it provides them with another avenue for interacting with the second language.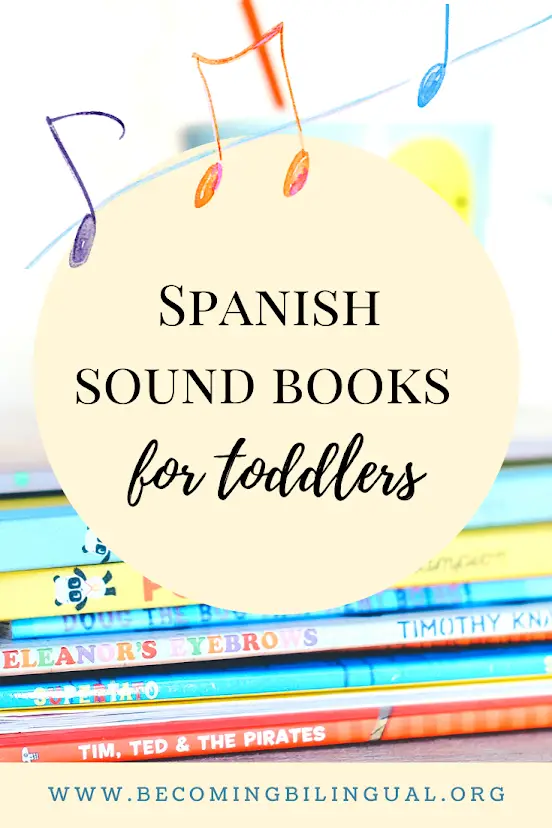 What Are Cali's Books?
Cali's Books is a company that produces sound books for children that have sound buttons. Not only do they have books for babies and toddlers but they also include books for older children, too.
The audio from the sound buttons is primarily dialogue or songs and not just music, which makes their books valuable for language learning. They also have several options for audiobooks including those in various languages and those that you can buy and record your own audio or retelling for playback.
The physical books are of great quality. The Spanish nursery rhyme books that we have are about 8″ by 8″ and sturdy hardcover. The front cover has raised texture and glitter which makes it very appealing for my daughter! Each individual page has a story button that is very responsive and easy for young children to push.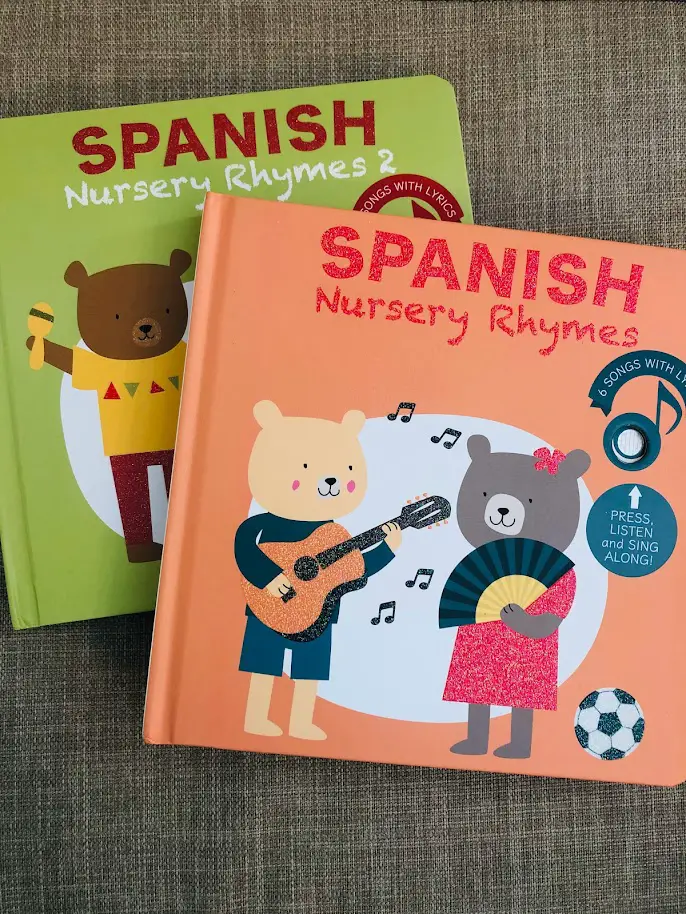 There's an on/off switch on the back of the book so that you can save the battery when you're not using it. Your first order also comes with a coupon for a free battery pack so that you can easily get more of the correct size battery to keep in the house as spares (the book that you bought also comes with a new battery fully installed so you don't need to buy one to start enjoying your new book immediately).
What We Like About Them
We have two of the Spanish nursery rhyme sound books from Cali's Books and we've really enjoyed them. They've provided a lot of entertainment for my little girl and they've added lots of Spanish language input time for her, which is valuable to me. Here's what we like about them:
Beautiful illustrations
Each page has a primary illustration that goes with the nursery rhyme. While the illustration is simple, the colors are bright and colorful and my daughter really enjoys looking at them.
I like how the sound button for each page is somehow embedded in the illustration or appears as a music note floating near the characters. My daughter, who loves touch and feel things, also loves that the cover of both books have raised sections with texture and glitter that she can rub!
Mix of Translated and Traditional Spanish Nursery Rhymes
Though I am not Hispanic, it's important to me that my daughter has exposure to traditional Spanish nursery rhymes. I think it helps her to understand Spanish culture which is closely tied to the Spanish language. One of our favorite parts of both of the nursery rhyme books that we have is that they both include a mix of traditional and translated nursery rhymes.
Since we listen to a lot of Spanish music, we were familiar with all of the Spanish nursery rhymes present in the books and my daughter enjoyed hearing some of her favorites like, "La Vaca Lechera". There are also some translated versions of English nursery rhymes like, "Estrellita" (Twinkle, Twinkle, Little Star).
Recommended: Nursery Rhymes To Build Your Child's Spanish
While the lyrics for all of the audio is in Spanish, the page actually contains the lyrics in Spanish and in English. This is beneficial for those who are still learning Spanish or who want the translation of the song.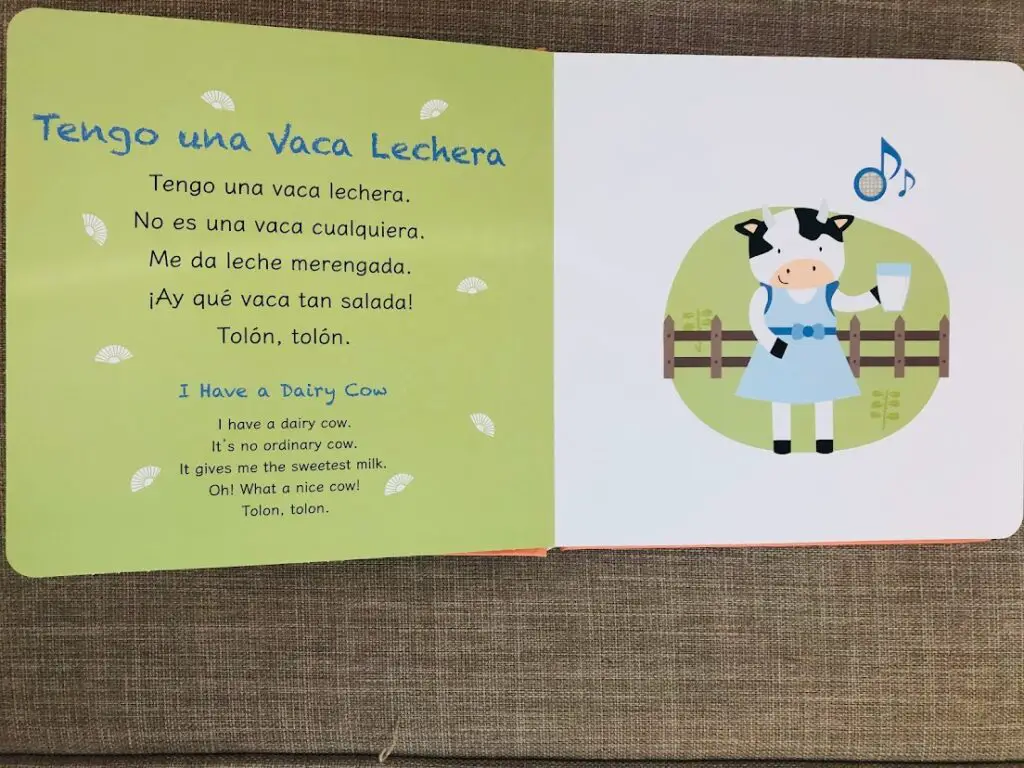 Clear Audio
Since we have a lot of Spanish audiobooks, I seek out and appreciate books that have a strong clear audio. We have so many books where the background music obscures the oral language or the voice sounds robotic and not fluent.
I was worried about a sound book with nursery rhymes because I was afraid that the background music would make it hard to hear the Spanish lyrics. This was definitely not the case with our two Spanish nursery rhyme books! The lyrics are clear and fluent and the background music perfectly augments the songs. My daughter loves to sing along with them and mimic the rhythm of their voices.
Extra Spanish Language Resources
When you go to the Cali's Books website, there are free Spanish language options. My daughter really loves fairytales so we downloaded some of the free Cinderella resources in Spanish and have enjoyed them very much.
One of the options is a free Spanish language PDF that includes the Spanish translation of the Cinderella recordable book that they sell at Cali's Books. The download also includes an audio recording of the Spanish language version so that you can hear and listen to the story in Spanish, even if you aren't proficient in speaking or reading it.
While the PDF and free Spanish downloads are cool, I wish that there was a Spanish language option for the fairytale books or the other books that Cali's Books offer. It would be nice to have the Spanish text available to go along with an audio version or a recordable version of the book so that the words they hear would match the words in print.  
If you're interested in purchasing these interactive books and trying them out, you can use this code to save 10%.
---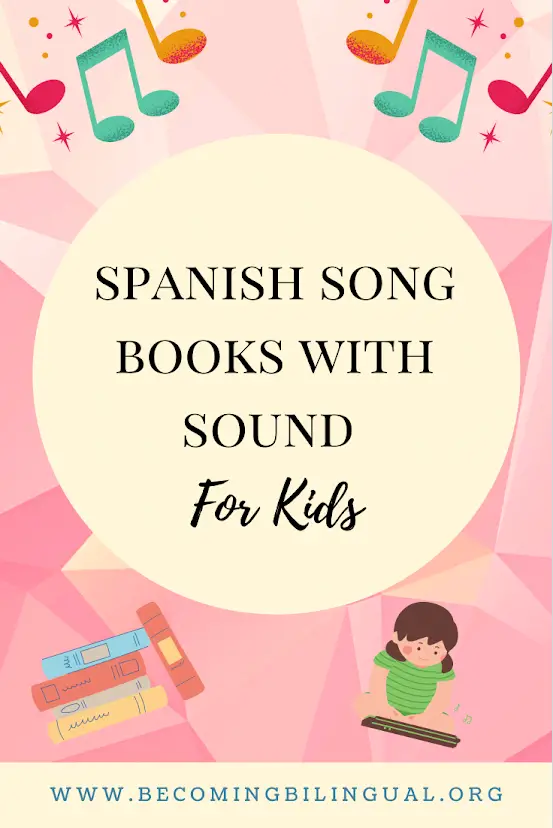 Interactive audio materials are one of the best ways to make language learning accessible for your child.
Do you know of any other Spanish interactive sound books? Did you try Cali's Books? Let me know in the comments!
Happy Learning!
Don't forget to subscribe here so that you can get my latest posts and resources delivered to your inbox!
---
---