The Best Spanish Toys For Bilingual Babies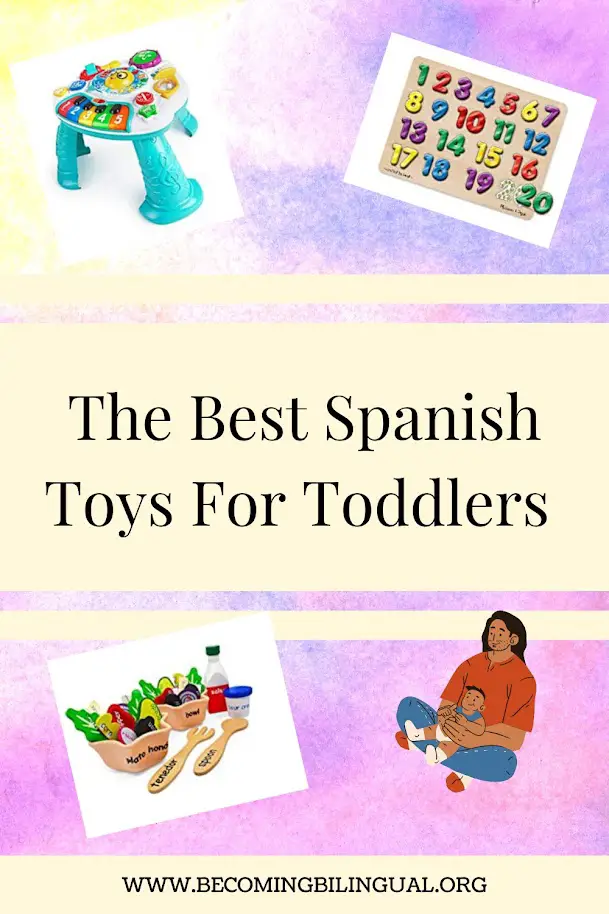 (Last Updated On: April 15, 2022)
When I decided to raise my daughter with Spanish, I wanted to make sure that our house had a ton of Spanish resources. I was (and still am!) nervous that I may say something grammatically incorrect since I'm also still learning Spanish. So having as many other sources of Spanish as possible in the home was really important to me.
It was relatively easy for me to start our collection of Spanish books and music, since I was able to find a lot of that online and slowly grow our collection over time, but toys were a different story.
As my daughter grew older, she became more interested in toys and I knew that I wanted to be purposeful in what I bought her – making sure that any new toys would also support our Spanish language at home.
If you've read some of my previous posts on raising a bilingual child then you'll know that there is a lot of research suggesting that your child needs to directly engage and interact with the target language.
Making sure that their toys are in the target language is just one more layer that you can add to your day to make sure that they're getting more engagement with Spanish.
---
This post contains affiliate links. If you click an affiliate link and make a purchase, I earn a small commission which supports this blog at no additional cost to you. Please see the Privacy Policy for details. Thank you for your support!
---
Here Are Our Best Spanish Toys For Bilingual Babies: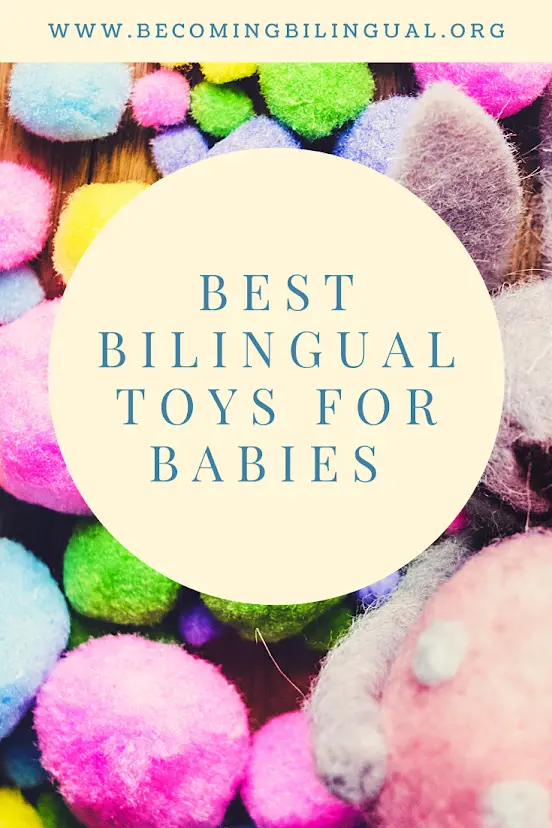 ---
For more information on raising a bilingual child check out these posts!
What Is The Best Age To Teach Your Child A Second Language?
The Challenges Of True Bilingualism In A Monolingual Culture
---
After a lot of research, reading reviews, testing out in stores, and thoughtful gifts from family, I was able to start a collection of bilingual toys for my daughter. The toys that I talk about in this post are all ones that we personally used in our home and had a positive experience with!
What I like about them:
These puzzles were an awesome resource for my daughter. I got them for her when she was 18 months and she got a lot of use out of them! The letter puzzle is great for helping children with letter ID and sound recognition in Spanish, both of which are important pre literacy skills. When your child fits the correct letter into the puzzle, it talks saying the letter name and key word, "D dinosaurio". The number puzzle is similar in that when you fit the correct piece into the puzzle it reads the number and the corresponding picture, "8 flores". The puzzles worked great for us and really grew with my daughter.
What I like about it:
This is a super fun and interactive table that has a few settings. On the side there is a language switch where you can select English, Spanish or French. We used our in the Spanish setting only. When we first used it, we used it without the legs and just laid it on the floor. That allowed my daughter to interact with it while being able to concentrate her strength on pushing buttons as opposed to standing. As she got more comfortable with standing, I added the legs back on and she used it as an activity table. It was a great way to encourage color and number awareness as well as the names a few types of instruments.
What I like about it:
Picture cards are a great way to introduce your baby to labeling. As they get to the point when they are starting to pronounce their first words, having objects that they can hold and manipulate are fun to use and identify. The cards can also come off of the ring and be used to stack and play with in a variety of other ways. These were a great resource for very beginning words in Spanish and a fun toy for my daughter when she was a baby.
What I like about it:
This was a pack that was gifted to my daughter when she was around a year old. It was fun for her because it looked similar to my real phone and tablet which she always wanted to grab! It was also cool because it had several settings that allowed her to play with it in a variety ways – number/letter recognition but also songs and phrases. I will admit that the songs got irritating after a while of hearing them over and over and over again….but that's true of all baby toys I think! This was another great option for a toy that grew with her as she maintained interest in it for a long while and was able to understand how to use the different settings as she got older.
What I like about it:
This game isn't specifically in any language since there's nothing to read during the game play, but it's a great game to use to practice your Spanish language. The basis of the game is "I spy" where you select a card and try to find as many of that item hidden around the 6 foot game board as you can. When we first got the game, I had to look up a lot of the vocabulary in Spanish since I didn't know words like "hammer", but it was a great way for us to practice some key Spanish phrases and learn new vocabulary.
If you're looking for more board games for younger kids, check out this list of Spanish board games for kids under 7.
What I like about them:
Nursery rhymes are a great way to encourage language and these sound books provide just that! We were gifted a 2 pack of these sound books and my daughter has really enjoyed them. Each book is hard cover and pretty durable, which is great for little hands. Not only does each section include a nursery rhyme with the Spanish lyrics, but it also includes an interactive button that plays the song. Quality interactive sound books with Spanish language have been really hard for me to find, so I was excited when we finally got these ones. They hold my daughter's interest for a really long time and give her exposure to Spanish language – win/win!
If you're interested in buying the 3 Spanish sound books that they offer, you can use this code to get 10% off your order!
What I like about them:
As always, some of the best bilingual toys that you can give your child are books and music. Reading books to your child is a great way to bond with your child, while also developing pre-literacy skills and Spanish language. Similarly, nursery rhymes can also have a huge language impact on your child and are a great way to engage your child with the rhythm of the language. I found that interactive books were the best to get for my daughter since it held her interest for so long and promoted active engagement!
This is a great nonfiction book about the body. It has tons of real life images of babies and toddlers which my toddler loved!
Touch and feel book! My daughter loved this touch and feel book for parts of a fire truck. Lots of good sensory parts and real life images.
Recommended For You: The Best Interactive Books For Kids In Spanish
What I like about them:
If you already know a good amount of Spanish, then open ended toys are a great resource for your family. You can use basic toys like blocks, to create a whole depth of language learning for your baby and expose them to so much vocabulary.
---
Spanish toys are a great gift for a bilingual family or for a family that's looking to start on their bilingual journey. As a non-native Spanish speaker, I was so grateful for all of the Spanish language toys that helped support my daughter's Spanish learning at home.
Let me know which ones you liked in the comments!
Happy Learning!
Don't forget to subscribe here and get my latest posts and resources delivered straight to your inbox!
---
---