A Spanish Thankfulness Activity For Kids
(Last Updated On: January 28, 2023)
Feliz Dia de Accion de Gracias! Thanksgiving is one of the most celebrated holidays in the United States. Celebrated each year on the fourth Thursday of November, Thanksgiving is a non-religious holiday that is widely celebrated.
Spanish Thanksgiving activities are a great way to work on Spanish reading and writing skills while also engaging in a fun holiday tradition!
In this article I'll share some Spanish words and phrases that will help you talk about Thanksgiving in Spanish. I'll also share one of my favorite Spanish thankfulness activities that I do with my daughter each year, as well as several Spanish books and videos that relate to el Dia de Accion de Gracias!
---
This post contains affiliate links. If you click an affiliate link and make a purchase, I earn a small commission which supports this blog at no additional cost to you. Please see the Privacy Policy for details. Thank you for supporting me!
---
Thanksgiving Spanish Vocabulary
There is so much rich vocabulary that you can use when you're talking about Thanksgiving with your family. I tried to compile a list of some of the most common words that I use with my daughter around the holiday.
While this list is by no means complete, hopefully you can find some words/phrases here to get you started talking about el Dia de Accion de Gracias!
I split the vocabulary into smaller sections based loosely around a theme. I hope that helps to give you a sense of what word you're looking for.
el Dia de Acción de Gracias (Thanksgiving Day)
Feliz Dia de Acción de Gracias! (Happy Thanksgiving!)
Noviembre (November)
el jueves (Thursday)
el otoño ( the autumn)
el pavo (the turkey)
el pure de papas (the mashed potatoes)
el pure de batatas (the mashed sweet potato)
la batata (a sweet potato/yam)
el maíz (the corn)
la ensalada (the salad)
las judías verdes (the green beans)
la salsa espesa (the gravy)
una cazuela (a casserole)
la calabaza (a squash/pumpkin)
la sala de arándano rojo (the cranberry sauce)
el pan (the bread)
el pastel (the pie)
el relleno (the stuffing)
el desfile (the parade)
los globos (the balloons)
el futbol americano (football)
la fiesta (the party)
los parientes (the relatives)
la reunión (the reunión/get together)
el peregrino (a pilgrim)
el americano nativo (a Native American)
compartir (to share)
doy gracias por (I give thanks for)
estoy agradecido/a por (I am thankful for)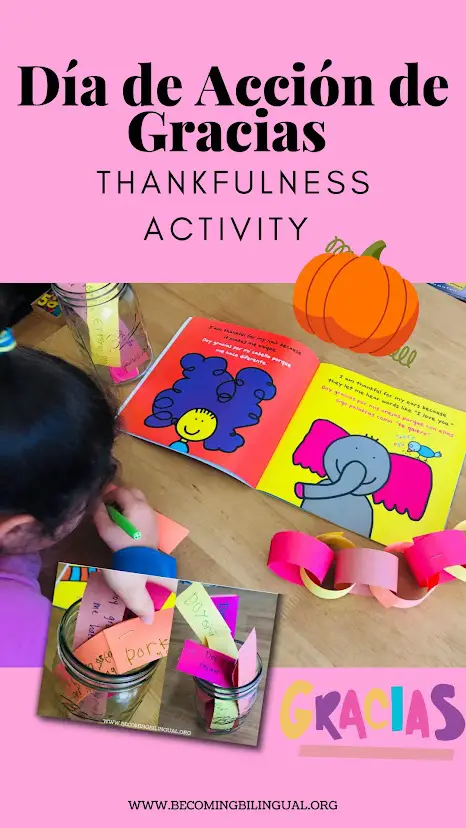 Thankfulness Activity
One way that we connect during Thanksgiving is to work on thankfulness activities.
It can be so easy to get caught up in the commercialism surrounding the holidays that we're usually focused on making lists of what we want and not what we're happy to have.
Here's a simple activity that I try and do with my daughter each year to practice gratitude for what we already have.
Recommended for you: Christmas Activities in Spanish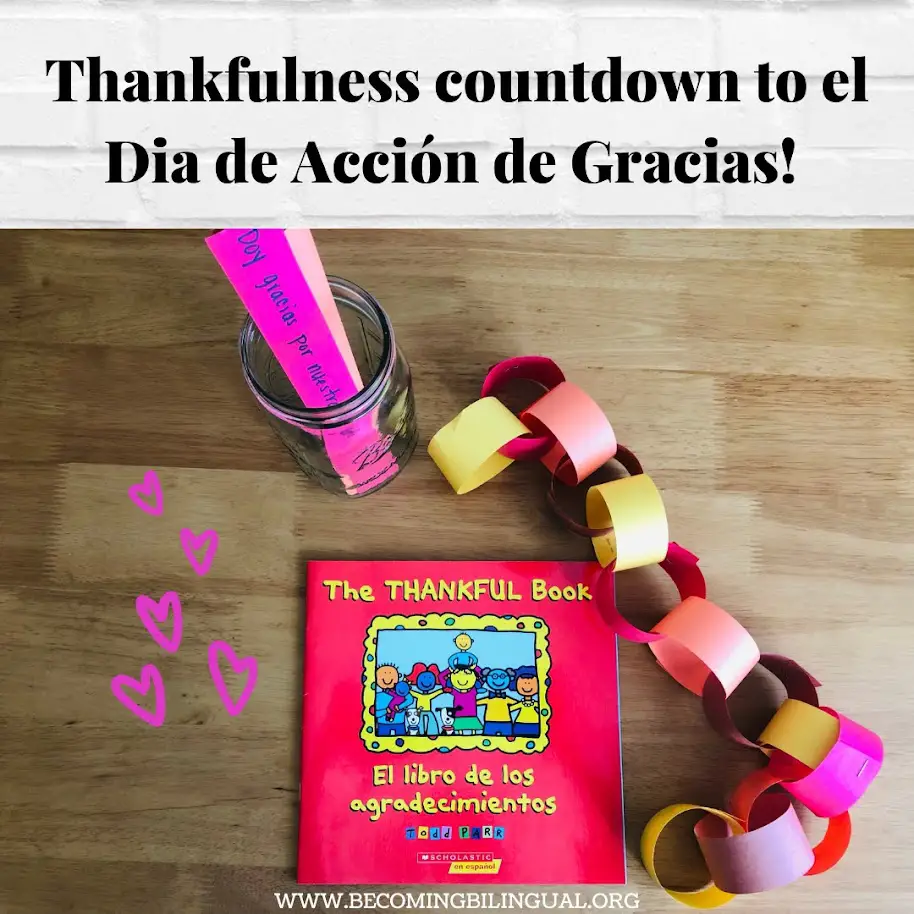 Materials:
Paper (cut into strips)
Stapler
Scissors
Pen/Pencil
Jar
Thankfulness book (optional)
Directions:
First we read, "el libro de los agradecimientos" by Todd Parr. This is a fun and easy read that sets up a good pattern for writing.
Almost all of the sentences start with, "Doy gracias por…" (I'm thankful for) so it's a nice structure to copy when you start the activity. Also, it has some fun, everyday ideas for what kids might be thankful for in their lives.
I make a chain by cutting colored paper into strips. I roll the first strip and staple it into a circle shape. Then I link the second strip inside the circle that I made and I roll that strip and staple it.
I usually make a chain that has enough strips for us to countdown to Thanksgiving from the first day in November (around 24 depending on the year).
We hang our chain in the kitchen entryway as a decoration and also because it's a central area in our home. Each day my daughter cuts a link from the chain that we've built.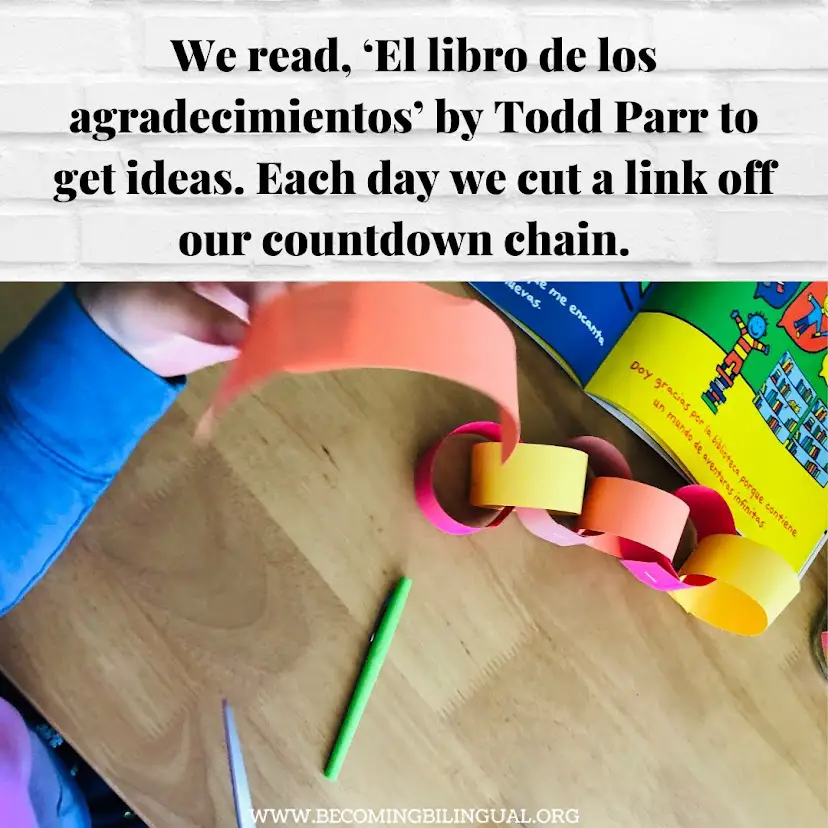 Once my daughter cuts off the link, she writes a sentence about what she's thankful for. We usually use the book, "el libro de los agradecimientos" to help with a sentence starter, grammar and ideas.
Sometimes my daughter writes about something tangible (like a toy, book, etc) or sometimes people in her life or even physical traits (strong arms, healthy body, etc). The cat almost always gets a mention!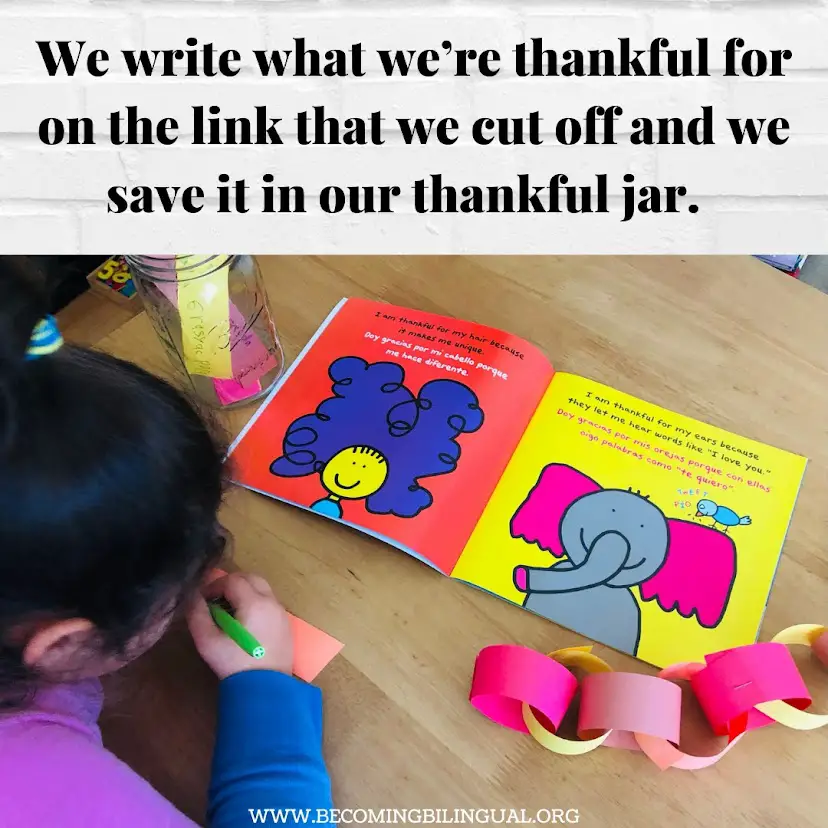 On Thanksgiving we have a great table decoration- a mason jar full of color with all of the things that we're thankful to have!
My daughter loves to take them all out and read back all of the things that we wrote. It's a great way to be appreciative on the holiday and to focus on all of the good that you have in your life.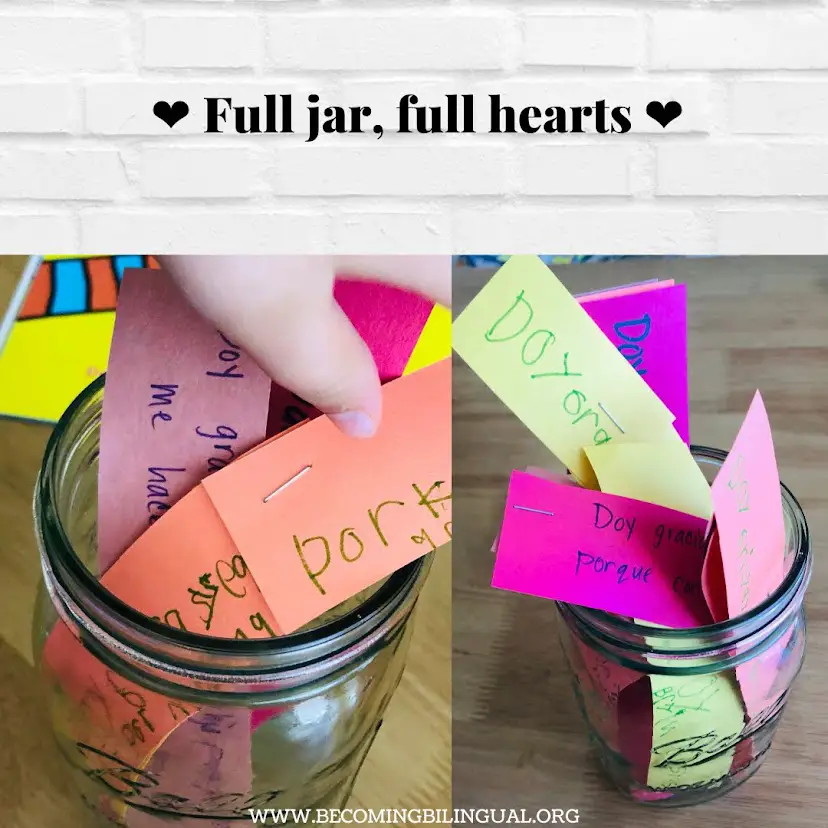 Thanksgiving Books in Spanish
Reading books in Spanish is a great way to connect with the language and with each other! Here are some great Spanish books for kids to read as a family to get ready for Thanksgiving.
Thanksgiving Videos in Spanish
Not all of the Thanksgiving books that we have talk about the actual history of the holiday that's celebrated in the Untied States. As my daughter got a bit older, I wanted some more resources to help explain to her the historical context of Thanksgiving.
Here are some child friendly videos in Spanish that talk more about the origins of the holiday and add some more talking points to your day.
The above video is a simple cartoon version of some of the history surrounding the first Thanksgiving. There isn't a ton of historical detail, but it gives a general overview that's good for younger children.
This video is a bit faster and has a more natural speed of Spanish conversation. It explains how the holiday of Thanksgiving is generally celebrated in the United States.
This Thanksgiving video is also a cartoon that is animated and geared toward a younger audience. However, the Spanish audio is of a native speaker and moves at a more conversational pace. This would be best for listeners who can follow a clear Spanish audio by themselves.
More Resources in Spanish
If you're looking for more resources, here are a few of my favorite Spanish sites that include Thanksgiving activities and more.
Spanish Playground – This site has a huge roundup of Spanish resources related to el Dia de Accion de Gracias. Some of the pages are printables and activities while others include vocabulary lists or fun songs for kids. Definitely check it out if you're looking for more
Try this! Mindfulness Activities in Spanish for Kids and Families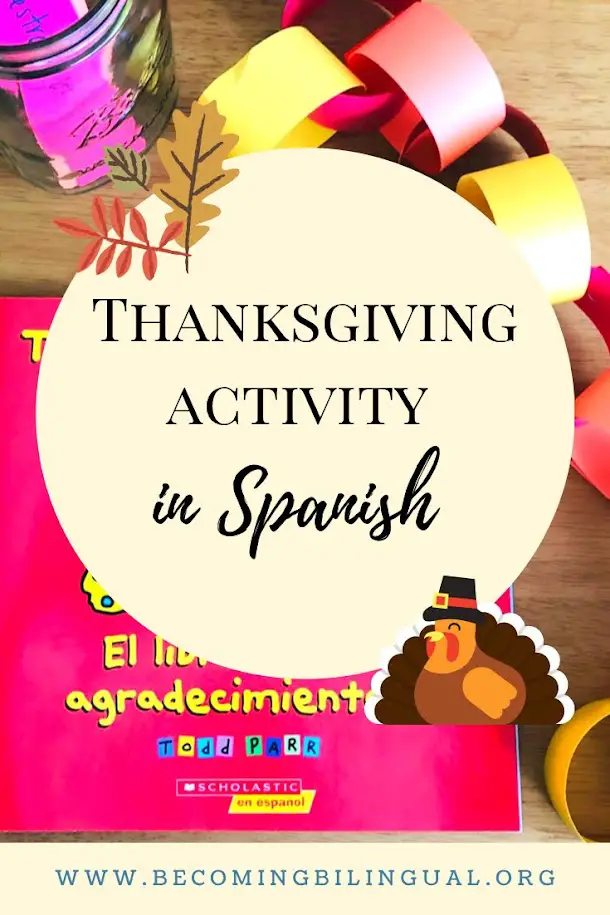 ---
Feliz Dia de Accion de Gracias!
I hope that this was able to give you some ideas and resources for celebrating el Dia de Accion de Gracias with your students or family! There is so much rich tradition and lots of Spanish vocabulary that goes along with this holiday, so it's perfect for practicing Spanish.
Happy Learning!
Don't forget to subscribe here so you can get my latest posts and resources delivered directly to your inbox!
---
---